Life 2 Retreats & Workshops

Facilitated by:
Jane Sleight-Leach - Founder of The Life 2 Project, EFT & Matrix Reimprinting Practitioner
Caroline Dawson - EFT & Matrix Reimprinting Practitioner and National Trainer, Registered Nurse
Wendy McKay - EFT, Matrix Reimprinting Practitioner and Clinical Psychologist
Mary Matthews - EFT & Matrix Reimprinting Practitioner, Occupational Therapist and Psychologist
Friday 9th November - Sunday 11th November 2018 - Brisbane.
Join us and be part of a gathering of women who are ready to let go of triggers, blocks and emotional stressors relating to past experiences of domestic and family violence, to reactivate vitality, and to connect more deeply with themselves.
Over the course of the weekend we will explore and identify beliefs and values that have been subconsciously dictating thoughts, feelings and behaviour. We will play with how we might make some small but powerful shifts in perception to create new possibilities for the future.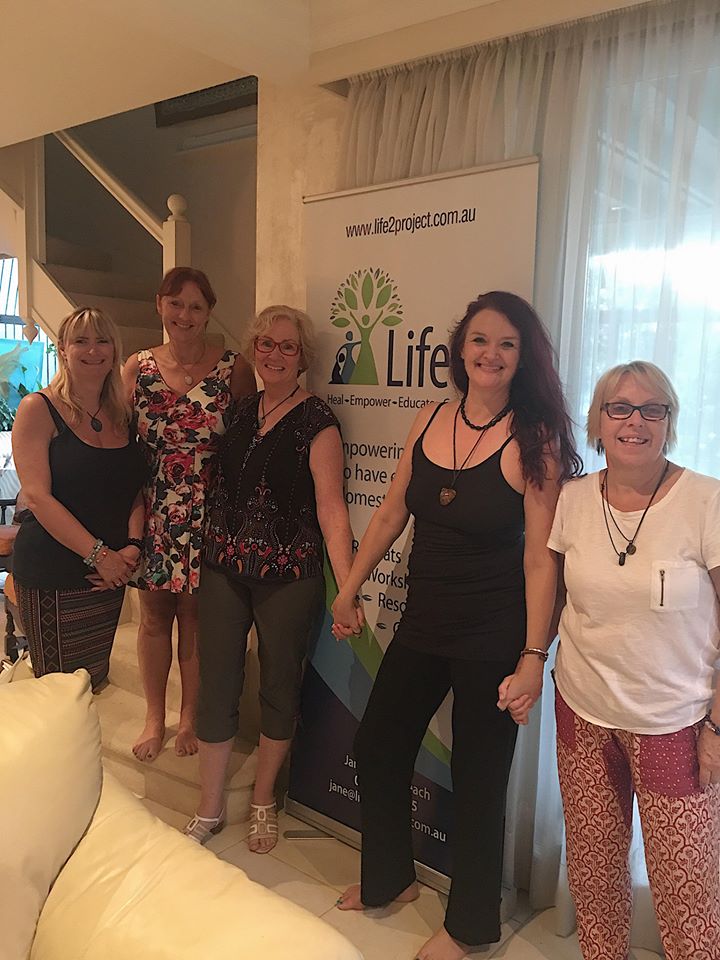 Our Three Day Retreat offers:
Three days of relaxation, energizing, connection, learning and letting go.
You will learn EFT (Emotional Freedom Technique) for everyday use in our supported group setting and you will have the opportunity to experience the new cutting edge technique of Matrix Reimprinting in private sessions with one of our practitioners. This modality will help you to easily and gently recognise core issues, allowing you to change the negative beliefs and perceptions that have until now kept you stuck in the cycle.
Matrix Reimprinting reaches a deeper level of the subconcious which makes it so much more effective than many other energy therapies.
You will "tap" into your ability to quickly transform your relationship to your past, creating shifts in your emotional and physical well-being in the present.
Rejuvenate with one of our healing and massage practitioners, further allowing your body and mind to sink into deep relaxation and release.
Join in gentle physical movement classes and activities such as Yoga to stimulate energy and well-being, mindfulness and awareness activities to calm the mind and enhance intuition.
This three day retreat includes delicious and nutritious home cooked gluten free lunches, dinners, morning and afternoon teas.
Enjoy all of this in luxury surroundings, a superior level of comfort and environment.
From 8.30am Friday 9th November 2018 to 5.30pm Sunday 11th November 2018
Subsidised places are available for individuals who are experiencing financial challenge at $295, we have made this very affordable for you and weekly/monthly payments are available. Please fill out our expression of interest form or call 0412 200515.
If you are a service provider and would like to refer a client to us please email life2project@gmail.com
Full value of a place on this Three Day Higher Healing Retreat is $2500, please contact us to discuss.